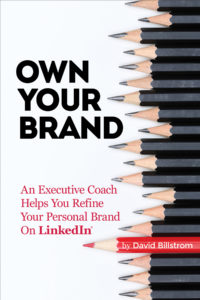 I have seen over and over with my clients that a thoughtful and careful presentation of yourself makes everything better: better meetings, better interviews, better choice of candidates when recruiting, and even helps developing great customers (and great vendors). So I wrote a book about it.
The Internet has transformed our professional relationships — because of LinkedIn, nearly everyone you meet will always know you. You literally can't un-meet them. What do they think of you?
This book is for anyone who wants to be more successful in business or get the job they would truly love. It is also for retirees looking to join the right volunteer organization and academics looking for the perfect research post. In other words, this book is for anyone who wants more effective and efficient engagement with other people.
You will learn:
– How to use story and narrative to communicate your abilities
– To tap into what you love to do, and describe it to others
– Specific steps to make your professional profile authentic, real and unique
– How to establish your credibility
– Exactly how to take best advantage of LinkedIn (and not be taken advantage of)
The book is packed with examples and do-it-yourself instructions, so that you can foster relationships as effectively as my clients.
You can buy it on Amazon (or get the Kindle version right this moment).
Barnes & Noble also has the book. And 800-CEO-READ provides the book with volume discounts.
And my old friends at Powell's Books in Portland, Oregon are stocking it too.
---
The method in the book is supported by free worksheets that help you with the process.
---
What's They're Saying About Own Your Brand
David Billstrom pulls from decades of experience in starting, running and investing in companies to offer sound and thorough advice on a critical but oft overlooked piece of your reputation: your online presence.
Using instruction and examples to move methodically through each section of a LinkedIn profile, David challenges readers to carefully construct their personal brands, from selecting the best photo to creating a personal narrative. Own Your Brand is for everyone wanting to maximize their professional presence online and stand out from the crowd.
–Shannon Polson Author, Speaker, Veteran
---
David taught me the importance of honing my professional brand, and how to expertly convey who I am and what I do. The result is a concise and impactful brand statement that has formed the backbone of how I represent myself in my professional world.
–Brent Bookwalter American Professional Cyclist
---
I will never forget the first meeting I was in with David. Not only blisteringly smart, but so focused on how we maximize the outcome, how we use the assets, resources, people and insight to make history, and how we create an outcome that will change our lives forever. He not only created that vision of what is possible, but created a road map and the belief that we could get there. Vision, mission, values and behaviors, then a road map of execution. Now he is providing a personal roadmap to the life and outcome you hope for. Listen up!
–Richard Tait Chief BoomBoom at Starbucks, Co-Founder of Cranium
---
I have found that David Billstrom's wise counsel goes to the soul of meaningful living.  He is a gifted consigliere in the very best sense of providing strategic insight, tactical acumen and prescient context in the adventure of finding your authentic self.
David has the extraordinary ability to help executives and leaders learn powerful business and life lessons from others' experience — as if we ourselves went through their journey.  In this book he's put the skills and insights down on paper, and we're the winners.
– Reuven Carlyle Washington State Senator, Business Stategist
---
FREE Worksheets
If you would like some help with the method in the Own Your Brand book, you can request free worksheets including a detailed checklist.
Simply provide your email address, and we will send them directly to you. Immediately.
---
Hall of Fame
There are quite a few great personal brands already on LinkedIn, which can provide inspiration and ideas for your personal brand. Here are a few I think are worthy:
Send me your nominations for awesome personal brands on LinkedIn via email, and I'll send you a gift if your nominee makes the cut.