Stop Hiding What Makes You Great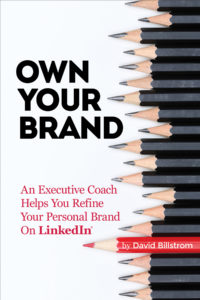 Is 2018 the year you step forward and present your authentic self to the world?
Do you want clients that are a better match? Customers that appreciate you? Vendors that "get" what is important to you?
Volunteer and non-profit opportunities that "click" with your values?
In my new book, Own Your Brand I explain how to use the popular LinkedIn service to present yourself and your abilities to a worldwide audience of 467 million people, following a proven step-by-step method.
The book guides you through a process that uncovers your abilities and capabilities, and helps you define yourself through specific techniques and numerous examples, just as dozens of my clients have done in the past several years.
You can buy it on Amazon (or get the Kindle version).
Barnes & Noble also has it. And 800-CEO-READ provides the book with volume discounts.
And my old friends at Powell's Books in Portland, Oregon are stocking it too.
---
What They're Saying About Own Your Brand:
I have found that David Billstrom's wise counsel goes to the soul of meaningful living.  He is a gifted consigliere in the very best sense of providing strategic insight, tactical acumen and prescient context in the adventure of finding your authentic self.
David has the extraordinary ability to help executives and leaders learn powerful business and life lessons from others' experience — as if we ourselves went through their journey.  In this book, he's put the skills and insights down on paper, and we're the winners.
– Reuven Carlyle Washington State Senator, Business Strategist
---
Learn more about my books on my website.